Workers of "Nairit Plant" CJSC claim their rights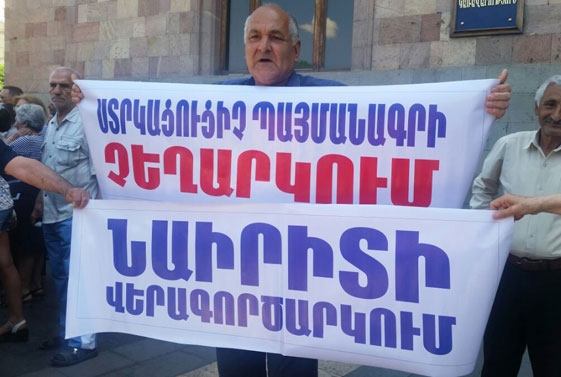 On May 16, numerous workers of the "Nairit Plant"CJSC, former and current, gathered near the residence of the Prime Minister of Armenia at the address - Bagramyan, 26. They demanded the restart of the enterprise and payment of wages for the last four months.
According to Grach Tadevosyan, chairman of the trade union organization of Nairit Plant, the term of the labor agreement between the Ministry of Emergency Situations of RA and the security service workers of the plant expired at the end of 2017, but since then there has been no order for dismissal yet. Workers continued to work, but did not receive wages.
"We demand that the issues of 116 employees be resolved, whose terms of employment contract expired on December 31. We do not want the issue of these workers to be submitted to the bankruptcy manager for consideration. In this case he will have to put up for sale the property of the plant to pay off debts on wages, and selling equipment will mean that there will be no way to restart the plant any longer. It is known that the total wage debts of the Ministry of Emergency Situations of the Republic of Armenia are about 8 million AD. This is not a very large amount. The government can oblige the ministry to pay wages to workers", G.Tadevosyan said and expressed hope that the new Prime Minister of the RA Nikol Pashinyan will make a positive decision on this issue.
Several participants of this action, headed by G. Tadevosyan, were invited to the talks, after which G. Tadevosyan told the action participants about the results of these negotiations.
Employees of "Nairit Plant" CJSC temporarily stopped their protest action and are waiting for the RA Prime Minister's answer.