May Day events of the Confederation of Trade Unions of Armenia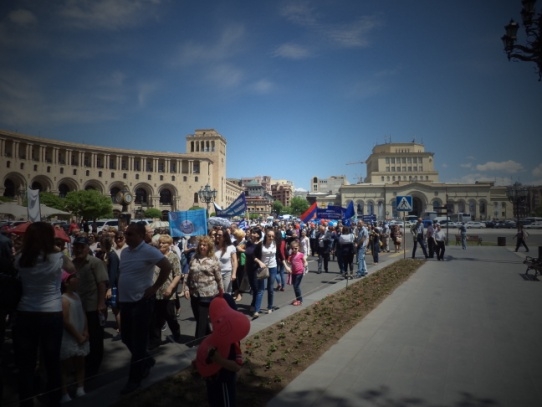 In accordance with the law of the Republic of Armenia "On holidays and commemoration days in RA" May 1 is a non-working day in the country and is celebrated as a Labour Day .
Confederation of Trade Unions of Armenia on May 1 2014 organized a procession through the central streets of the city and a meeting in front of the building of the Confederation of Trade Unions of Armenia , which was attended by numerous representatives of the branch republican unions, factories and other organizations and representatives of twenty branch republican unions , members of the CTUA, who came from different regions of the republic. The main slogans of May day 2014 were - "Decent work and decent wages for the working man", "We demand a decent present for young people and a decent future for our children" and slogans demanding the creation of jobs , raising the minimum wages to a living wage.
May Day events of the Confederation of Trade Unions of Armenia were widely covered in many media. In his speech on the TV channel «Arm.news» the Chairman of the CTUA E.Tumasyan spoke about the numerous violations of the rights and interests of workers.
On the TV channel " Erkir-media " E.Tumasyan touched the most pressing issue - a mandatory component of a funded pension system , which has caused a storm of discontent in the country. The Chairman of the CTUA noted that the introduction of a mandatory component is ill-timed, and it is possible only in case of stable social-economic situation in the country , when employees will be provided with decent work and this work will be adequately paid.