The meeting of the Republican tripartite commission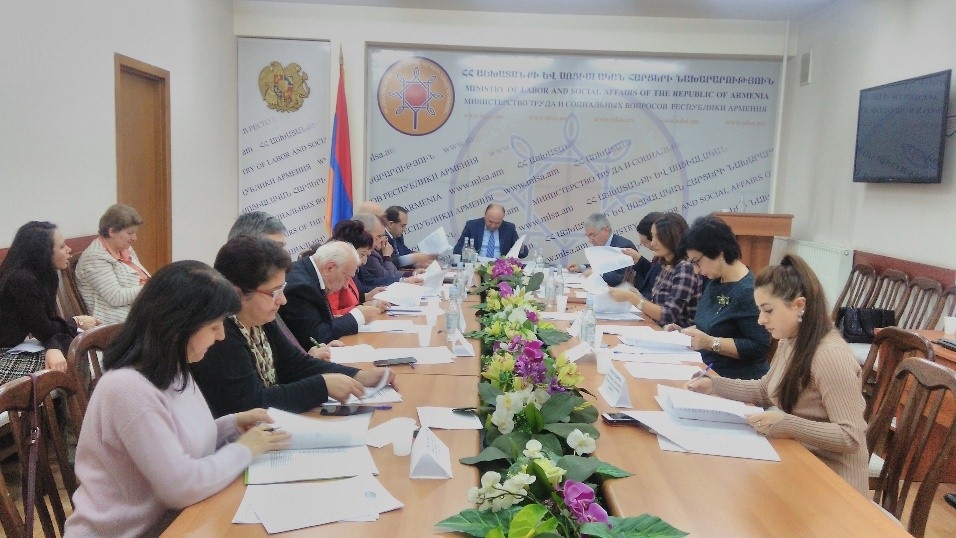 On 19 December 2019 at the Ministry of Labour and Social Affairs of the Republic of Armenia the meeting of the Republican tripartite commission was held with the participation of the representatives of the three parties. The Confederation of Trade Unions of Armenia was represented by the Deputy Chairman of the CPA Boris Kharatyan, a number of chairmen of branch republican unions and heads of departments of the CTUA staff.
The meeting was chaired by Deputy Minister of Labour and Social Affairs Arman Udumyan.
During the meeting a draft republican collective agreement was discussed. Arpine Sargsyan, chief specialist of the Department of Labour and Employment of the Ministry of Labour and Social Affairs of Armenia acquainted the participants of the meeting with the recommendations presented by the Chairwoman of the Republican branch union of professional organizations of the workers of state enterprises, of municipally authorities and public service of RA Anahit Asatryan.
Boris Kharatyan proposed the creation of a working group with the participation of a tripartite commission to discuss a number of contradictory provisions in the draft, which will study within a specified time the organizational, regulatory issues included in the draft, as well as issues related to unemployment benefits and other contentious issues, after which the final results will be presented .
The parties emphasized the important role of social partnership in ensuring a balance of interests, social justice and effective problem solving. The emerging trend of sustainable development of socio-labour and socio-economic relations was noted in connection with increased employment, poverty reduction and effective protection of labor rights.
At the end of the meeting, the Chairman of the Republican Union of Employers of the RA Gagik Makaryan presented the results of the participation of the Armenian delegation in the subregional seminar on the theme "Promotion of Tripartite Social Partnership", which was held in Moscow from December 10 to 13, 2019.