Meeting in the Confederation of Trade Unions of Armenia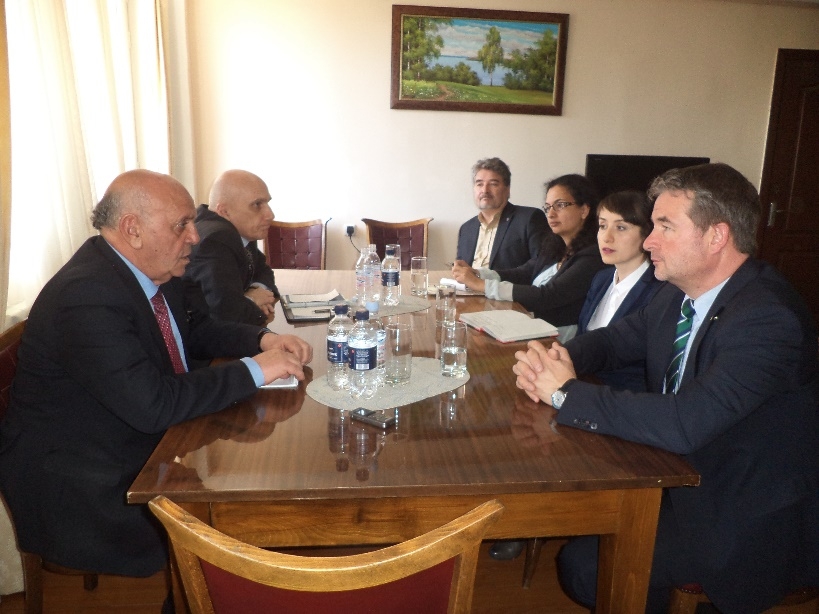 On 5 May 2016 the President of the Confederation of Trade Unions of Armenia Eduard Tumasyan hosted the deputy of the German Bundestag, the member of the permanently acting committee on employment and social issues, the member of the Christian Democratic Party of the Federal Republic of Germany , the head of the Armenian-German Forum Albert Weiler.
During the meeting E.Tumasyan spoke about the current state of youth unemployment in the country and how the trade unions refer to this problem. He expressed his concern about the high level of unemployment, noting that it is the highest among the CIS countries - about 17% and the majority of this number are young people, which in its turn contributes to an increase in migration.
According to E.Tumasyan one of the main ways of solving this problem is to raise the role of technical and vocational education.
A. Weiler presented the German experience in the eradication of unemployment among young people, describing the existing in Germany a dual education system, which enables young people to study and work at the enterprise simultaneously. He also noted that the German foreign chamber of commerce and many colleges are ready to share their experience and to cooperate fully with all interested foreign partners.
The meeting was attended by Deputy Head of the Embassy of the Federal Republic of Germany in Armenia Nadia Lichtenberger, a project coordinator Alla Serobian and deputy president of the CTUA Boris Kharatyan.